To stay up-to-date on upcoming Hawks Basketball Academy camps, clinics, tournaments, Hawks At Home workouts & virtual experiences, fill out the form below and subscribe to our newsletter!
Join the Hawks Basketball Academy for a virtual basketball experience.
Here you will find Fun Activities, Full Workouts and Individual Skills and Drills for you to work on to improve your game!
Basketball, Fitness & FUNdamentals!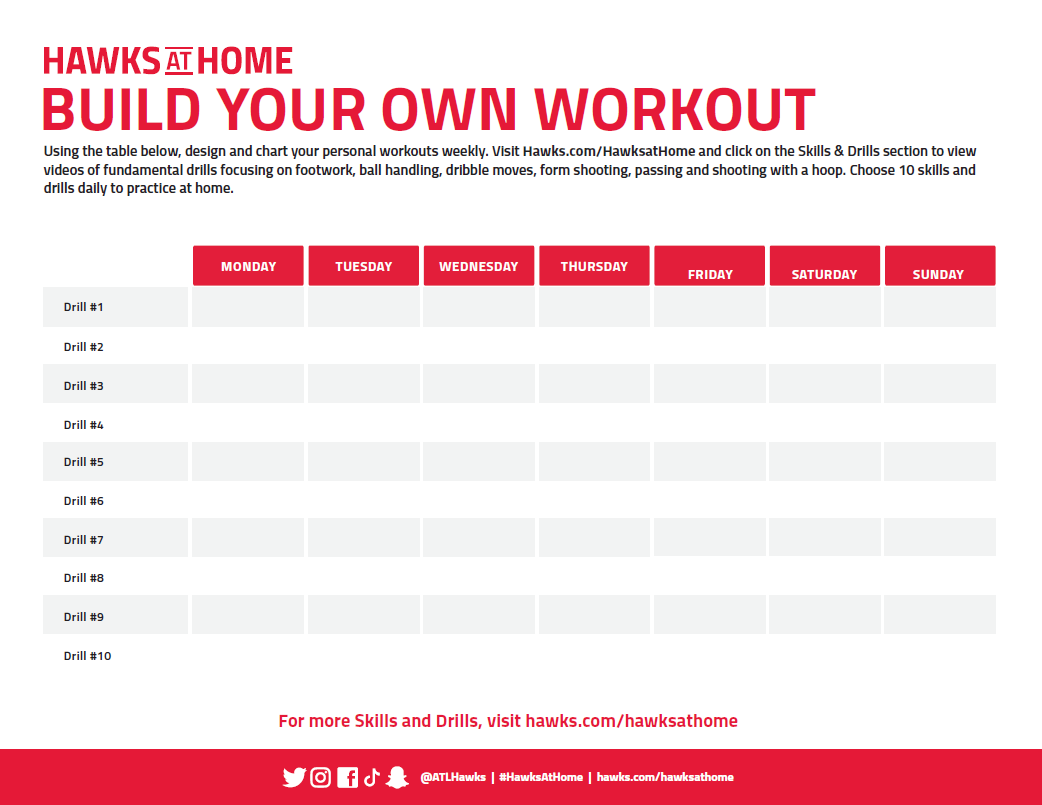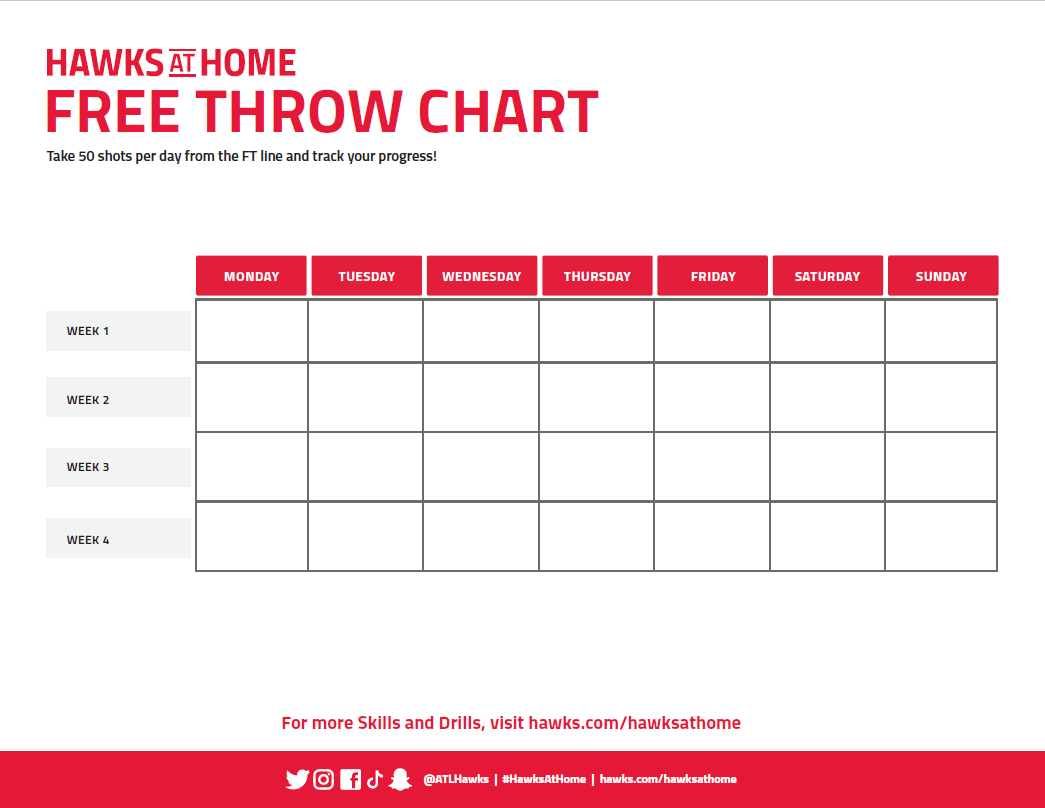 | Video Title | Topic | Skill Level | Instructor | Drill/ Workout | Watch |
| --- | --- | --- | --- | --- | --- |
| 1 - 2 Shooting Drill | Form Shooting | Advanced | Chris Jent | Drill | Watch Now! |
| 2 Ball Alternating Dribble | Ball Handling | Beginner | Jon Babul | Drill | Watch Now! |
| 2 Ball Dribble | Ball Handling | Beginner | Jon Babul | Drill | Watch Now! |
| 2 Ball Front to Back | Ball Handling | Advanced | Jon Babul | Drill | Watch Now! |
| 2 Cone Layup Drill | Shooting w/ Hoop | Beginner | Jon Babul | Drill | Watch Now! |
| 3-3-3 Dribbling Drill | Ball Handling | Beginner | Chris Jacobs | Drill | Watch Now! |
| Advanced Ball Handling | Ball Handling | Advanced | AJ Gwyn | Drill | Watch Now! |
| Ball Circles | Warmups | Beginner | Chris Jacobs | Drill | Watch Now! |
| Ball Crawl | Warmups | Beginner | Jon Babul | Drill | Watch Now! |
| Ball Handling 4 Cones | Dribble Moves | Advanced | AJ Gwyn | Drill | Watch Now! |
| Ball Handling Workout 1 | Ball Handling | Beginner | Multiple | Workout | Watch Now! |
| Ball Handling Workout 2 | Ball Handling | Advanced | Multiple | Workout | Watch Now! |
| Ball Slaps | Warmups | Beginner | Jon Babul | Drill | Watch Now! |
| Ball Taps | Warmups | Beginner | Melvin Hunt | Drill | Watch Now! |
| Baseball Pass (Full Court) | Passing | Beginner | Jon Babul | Drill | Watch Now! |
| Board Taps and Finish | Shooting w/ Hoop | Advanced | Jon Babul | Drill | Watch Now! |
| Bounce Pass | Passing | Beginner | Jon Babul | Drill | Watch Now! |
| Box Jump | Warmup | Beginner | Jon Babul | Drill | Watch Now! |
| Burpees | Warmup | Advanced | Jon Babul | Drill | Watch Now! |
| Chaine Turns | ATL Hawks Dancers | Beginner | AHD Cody | Drill | Watch Now! |
| Chest Pass | Passing | Beginner | Jon Babul | Drill | Watch Now! |
| Combo Moves | Footwork | Advanced | Dan Searl | Drill | Watch Now! |
| Complete Player Workout | Multiple | Beginner | Multiple | Workout | Watch Now! |
| Crossover & Between the Legs | Dribble Moves | Beginner | Chris Jacobs | Drill | Watch Now! |
| Crossover & Finish | Shooting w/ Hoop | Advanced | Jon Babul | Drill | Watch Now! |
| Crossover Dribbles | Ball Handling | Beginner | Jon Babul | Drill | Watch Now! |
| Crossover/ Between/ Behind | Dribble Moves | Advanced | Chris Jacobs | Drill | Watch Now! |
| Dribble Move One Hand Passing | Passing | Advanced | Nate Babcock | Drill | Watch Now! |
| Figure 8 Dribbling | Ball Handling | Beginner | Chris Jacobs | Drill | Watch Now! |
| Fitness Workout | Fitness | Beginner | KK Salmonson | Workout | Watch Now! |
| Form Shooting | Shooting with a Hoop | Beginner | Greg Foster | Drill | Watch Now! |
| Form Shooting | Shooting w/ Hoop | Beginner | AJ Gwyn | Drill | Watch Now! |
| Form Shooting Progression | Shooting with a Hoop | Beginner | Jon Babul | Drill | Watch Now! |
| Form Shooting w/ Dribble | Form Shooting | Beginner | Chris Jacobs | Drill | Watch Now! |
| Front Pivot | Footwork | Beginner | Matt Hill | Drill | Watch Now! |
| Hawks Square (Box Drill) | Footwork | Beginner | Jon Babul | Drill | Watch Now! |
| Headspring | ATL Hawks Dancers | Beginner | AHD Lindsay | Drill | Watch Now! |
| Hip Hop Combo #1 | ATL Hawks Dancers | Beginner | AHD Isabelle | Combo Drill | Watch Now! |
| Hip Hop Combo #2 | ATL Hawks Dancers | Intermediate | AHD Jayla | Combo Drill | Watch Now! |
| Hip Hop Combo #3 | ATL Hawks Dancers | Beginner | AHD Holly | Combo Drill | Watch Now! |
| Hip Hop Combo #4 | ATL Hawks Dancers | Beginner | AHD Lexi | Combo Drill | Watch Now! |
| Hops & Bounds | Footwork | Beginner | Jon Babul | Drill | Watch Now! |
| How Does a Basketball Spin On Your Finger? | Science of Basketball | n/a | Prof. Labcoat | n/a | Watch Now! |
| In & Out Crossover Between | Dribble Moves | Advanced | Chris Jacobs | Drill | Watch Now! |
| In and Out Crossover | Dribble Moves | Beginner | Jon Babul | Drill | Watch Now! |
| Jab Step | Footwork | Beginner | Jon Babul | Drill | Watch Now! |
| Jazz Combo | ATL Hawks Dancers | Beginner | AHD Holly | Combo Drill | Watch Now! |
| Jump Rope | Warmups | Advanced | Matt Hill | Drill | Watch Now! |
| Jump Stop Pivot w/ Speed Ladder | Footwork | Advanced | Jon Babul | Drill | Watch Now! |
| Jump Stop Pivots | Footwork | Beginner | Daniel Quintanilla | Drill | Watch Now! |
| Jump Stop Reverse Pivot w/ Ladder | Footwork | Advanced | Jon Babul | Drill | Watch Now! |
| Jump Stop Shooting Drill | Form Shooting | Advanced | Chris Jent | Drill | Watch Now! |
| Ladder Drill | Warmups | Advanced | Marlon Garnett | Drill | Watch Now! |
| Layup Jumps | Warmups | Beginner | Jon Babul | Drill | Watch Now! |
| LIVE Basketball Workout #1 | Multiple | Intermediate | Multiple | Workout | Watch Now! |
| LIVE Basketball Workout #2 | Multiple | Intermediate | Multiple | Workout | Watch Now! |
| LIVE Basketball Workout #3 | Multiple | Intermediate | Multiple | Workout | Watch Now! |
| LIVE Basketball Workout #4 | Multiple | Intermediate | Special Guest: Mfon Udofia | Workout | Watch Now! |
| LIVE Basketball Workout #5 | Multiple | Intermediate | Special Guests: Bruno Fernando & Bob Rathbun | Workout | Watch Now! |
| LIVE Basketball Workout #6 | Multiple | Intermediate | Special Guests: Brandon Goodwin and Bob Rathbun | Workout | Watch Now! |
| Lower Body Stretches | ATL Hawks Dancers | Beginner | AHD Jasmine | Drill | Watch Now! |
| Mikan Drill | Shooting w/ Hoop | Beginner | Jon Babul | Drill | Watch Now! |
| Morning Stretch | ATL Hawks Dancers | Beginner | AHD Jasmine | Drill | Watch Now! |
| Mountain Climber | Warmup | Beginner | Jon Babul | Drill | Watch Now! |
| One Hand Passing | Passing | Advanced | Nate Babcock | Drill | Watch Now! |
| One Hand Passing - Skip/ Pocket | Passing | Advanced | Nate Babcock | Drill | Watch Now! |
| Open the Gate, Close the Gate | Warmup | Beginner | Jon Babul | Drill | Watch Now! |
| Overhead Pass | Passing | Beginner | Jon Babul | Drill | Watch Now! |
| Pivot/Shot Fake/ Jab | Footwork | Advanced | Matt Hill | Drill | Watch Now! |
| Retreat Dribble | Dribble Moves | Advanced | Jon Babul | Drill | Watch Now! |
| Reverse Mikan Drill | Shooting w/ Hoop | Beginner | Jon Babul | Drill | Watch Now! |
| Rip Through & Finish | Shooting w/ Hoop | Advanced | Jon Babul | Drill | Watch Now! |
| Scissors Drill | Dribble Moves | Advanced | Chris Jacobs | Drill | Watch Now! |
| Shoot and Move | Shooting with a Hoop | Advanced | Greg Foster | Drill | Watch Now! |
| Shooting Workout | Shooting with a Hoop | Beginner | Multiple | Workout | Watch Now! |
| Shot Fake Drill | Form Shooting | Beginner | Kevin Huerter | Drill | Watch Now! |
| Shot Fake, Power Dribble, Finish | Shooting w/ Hoop | Beginner | Jon Babul | Drill | Watch Now! |
| Side Shuffle | Footwork | Beginner | Jon Babul | Drill | Watch Now! |
| Speed Ladder Basics | Footwork | Beginner | Jon Babul | Drill | Watch Now! |
| Stationary Cross & Between the Legs | Dribble Moves | Beginner | Chris Jacobs | Drill | Watch Now! |
| Story Time: Good Night Moon | ATL Hawks Dancers | n/a | AHD Alyssa | n/a | Watch Now! |
| Storytime: Oh, The Things You Can Think! | ATL Hawks Dancers | n/a | AHD Alexis | n/a | Watch Now! |
| Tennis Ball Wall Toss | Ball Handling | Advanced | Marlon Garnett | Drill | Watch Now! |
| Toss, Catch & Shoot | Shooting w/ Hoop | Advanced | Jon Babul | Drill | Watch Now! |
| Trae's Shooting Tips | Form Shooting | Beginner | Marlon Garnett | Drill | Watch Now! |
| Warmup Routine | Fitness | Beginner | Jon Babul | Workout | Watch Now! |
| Water Bottle Ball Handling | Ball Handling | Beginner | Bridget Robinson | Drill | Watch Now! |
| Why Does a Basketball Bounce? | Science of Basketball | n/a | Prof. Labcoat | n/a | Watch Now! |
| X Out | Shooting w/ Hoop | Beginner | Jon Babul | Drill | Watch Now! |